Used Cars Hooksett, NH

Are you in the market for a used car? If so, you've probably been making the rounds at all of the local used car dealerships in Hooksett, NH. We recommend that you wait to make a purchase until you've explored the inventory on our used car lots here at Merchants Auto. We take the services we offer seriously, and whether you are looking for a compact car for your daily commute or a larger car to carry the kids around in, you'll find exactly what you need here.
Looking for a "used car near me?" We're conveniently located right off of Route 3 — we're easy to find, and we aren't far away. If you need vehicle servicing, like an oil change, new battery, or even collision repair, we can handle that in no time at all, and if you are looking or reliable and affordable servicing options, we can walk you through that as well.
Contact us for all of your used car needs, and we promise that you will drive home satisfied in your used car purchase. Get in touch with any questions, or keep reading to learn more about our used car dealers in Hooksett, NH.
---
Used Cars in Hooksett, NH
What kind of a used vehicle are you looking for? Do you need a classy sedan for your daily ride to work, or do you want something that's fast and fun to drive? Are you looking for a powerful truck, a 4×4 SUV, or a used compact car that will save you money at the pump? We have it all at our used car dealership, and we'd love to show you around our used car lots.
As far as Hooksett car dealers go, we have one of the most diversified inventories around, and we can set you up with a test drive at your earliest convenience. Stop in to test drive a used minivan, or give us a call about the luxurious, late-model sedans we have on hand. You can find anything from an affordable used Ford Focus to a sporty, beautify late-model used Chevy Malibu. From used F-150s to Toyota Camrys, you never know what might be available at our dealership.
If you see a car that fits your needs, don't hesitate to reach out — our inventory moves quickly, and we don't want to you to miss out on a chance to test drive one of our exciting used cars.
---
Vehicle Service Department in Hooksett, NH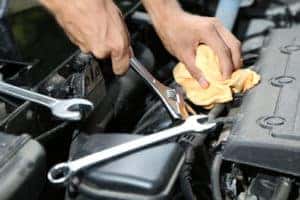 Have you been searching the internet for a "service department near me?" If so, we have you covered. Our car service center is here waiting to repair your vehicle, and our technicians are both skilled and experienced.
Do you need to get your car's annual inspection checked off your to-do list, or do you need a regular oil change or tire rotation? We can handle all that quickly and painlessly, and you can even get on our calendar for regular 6-month intervals, so you don't have to worry about it. We can also take care of all your aesthetic and structural repair needs as well; from dent removals to paint jobs and collision repair, we'll get you back on the road in no time at all following an accident.
We can also fix more serious engine, brake, suspension, clutch, or transmission issues as well; if you have a problem, reach out to our service department about scheduling service, repairs, or even towing.
---
Get a Standard Car Loan in Hooksett
If you're entering the market for a used car, we always recommend getting pre-approved for financing. It will ease your mind, allow you to spend your time looking at only cars within your budget and keep you from spending more than you intended. On top of that, you'll enjoy the car shopping process much more!
To get started, fill out our application form. It's secure, and you only need some basic bank and financial information. A strong credit score will net you a better interest rate (annual percentage rate in this case, or APR), but we encourage shoppers of all financial backgrounds to apply for credit. We'll find a 3rd-party lender that you can trust, and you'll have the funding you need to get a reliable car in no time.
If you have any questions about how vehicle financing works, how your credit score influences your financing, or anything else, please don't hesitate to reach out.
---
Buy Here Pay Here (BHPH) Loans in Hooksett, NH
If you were looking for a buy here pay here car lot nearby, you've found the right place. We offer a tremendous selection of used cars, and we sell them through both traditional and buy-here-pay-here financing. But what exactly is BHPH, and do you qualify?
BHPH car financing is for individuals who, for one reason or another, have trouble qualifying for traditional car loans. Perhaps you don't have enough credit history, or maybe you have no credit history at all; additionally, you might struggle to qualify for normal financing if you have a bankruptcy or missed payments in your past.
We understand, and we don't judge. We will work with you to give you a loan directly from our used car dealership, and you can repay that loan directly to us. Buy here pay here loans usually have a higher interest rate, and you have to abide by a strict payment schedule, but it will get the job done if you need a used car before you have time to repair your credit.
Whether you need a used car loan, a vehicle service center, or you're looking for used cars for sale in Hooksett, NH, you've found the right dealership. We'll help you find the right vehicle, and you'll love working with our dedicated team along the way. We have cars, compact cars, trucks, sedans, and more — we have the right used car for individuals and families alike. Give us a call, send us an email, or stop by the dealership if you have any questions!