Used Cars Bow, NH

As one of the top used car dealerships in Bow, New Hampshire, we take pride in the cars we sell, the prices we charge, and the service we offer. Our team of professionals offers skilled and caring service, our vehicles are high quality and loaded with value, and our technicians will get your car back on the road as quickly as anyone.
Do you need a large van or SUV to carry your kids to and from school every day? And does that car need to be able to drive through inclement winter weather? We have the perfect options for you. Do you need an affordable and gas-efficient compact car for your daily commute? Or are you looking for a luxurious full-size sedan? Regardless of your used car needs, we have the perfect option for every budget and lifestyle.
Our service options — from an oil change to a brake pad replacement — are just as high quality as the cars we sell, and you will love the price point as well. Regardless of your automotive needs, we would love to be the used car dealers in Bow, New Hampshire to help you out. Give us a call, send us an email, or stop by our location today.
---
Looking for "Used Cars for Sale Near Me"?
If you have been looking around at used cars for sale in Bow, NH, you've found the right dealership. We have options for every need and every budget, and we are dedicated to helping you find the right car.
Start off by looking through our collection of mid-sized to full-sized sedans. You may find a used Ford Taurus, used Chevy Malibu, Impala, or Fusion — our inventory turns over frequently, so don't wait if you see a car that you like! You can also find a number of gas-efficient compact cars on our lots, from used Ford Focus models to other popular compact cars.
If you need a larger vehicle for the whole family, stop by and take a look at our SUV, van, or crossover collection. You'll need something that can keep you safe in the rain and snow, and we have plenty of four-wheel-drive options to satisfy that need. Our used pickup trucks are also high quality and powerful — stop by for a test drive today!
Regardless of your used car needs, we have the right vehicle for your lifestyle and price-point. Get in touch if you'd like to get started with a test drive or if you just need someone to show you around the dealership!
---
Need a "Service Department Near Me"?
If you have been looking for used car service in Bow, New Hampshire, you've arrived at the right place. Our technicians are caring and skilled, and we can get your car back on the road as quickly as anyone. If you get stranded, give us a call — we can help you arrange towing. If you need maintenance in the near future, give us a call! We'd love to get you on the schedule for an inspection or oil change.
Firstly, if your vehicle has sustained any kind of damage, get in touch with our service center in Bow, NH. We can handle minor issues like dents, scratches, and part replacements, and if you've been involved in a serious collision, we can help you with that as well. Fender benders don't phase our repair technicians, and if your car is worth saving (in other words, it isn't "totaled"), we'll find a way to get it road-worthy again.
You can also contact us if your vehicle has broken down in some way; transmission goes, brakes get old, and you may need a new clutch some day. When that day comes, we hope you'll give us a call. You can also schedule regular of bi-annual maintenance with us — that way you'll have your repair time locked in months in advance, and you won't even think about it when it's time for an oil change.
Regardless of the quality of your car, you'll probably need to get something repaired some day. If not that, you'll certainly need regular maintenance performed. We hope that when that time comes, you'll choose Merchants Auto for your automotive repair needs.
---
Used Car Finance in Bow, New Hampshire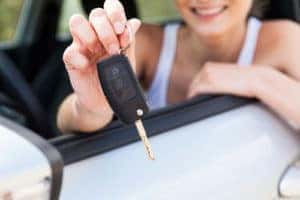 If you've been exploring Concord auto sales, you're probably seriously considering buying a used car. And by extension, it's the perfect time to start considering a used car loan in Bow, New Hampshire. We always recommend getting pre-approved for several reasons.
First, getting pre-approved for used car financing in Bow, NH allows you to focus on the enjoyable part of the shopping process — looking at cars. If you don't know what kind of credit you'll be approved for, you'll be focusing on what you can afford rather than the look, features, and performance of the car you are considering.
Getting pre-approved also keeps you within your budget. When you have already set your used car loan in stone, you don't have the option of spending more than you've been approved for!
---
Buy Here Pay Here Car Lots Near Me in Bow, New Hampshire
If you've been looking for Buy Here Pay Here loans in Bow, New Hampshire, we would love to speak with you. We offer reasonable, reliable car loans to individuals who have had a hard time getting approved elsewhere, and nothing makes us happier than seeing members of our community drive home in the car they were looking for.
Sometimes, shoppers who have dealt with bankruptcies, missed payments, or high credit card balances will have trouble getting approved for a traditional car loan. That's where BHPH loans become important. If your credit score is too low for a traditional loan, we will directly loan you the money you need to make a down payment on a reliable used car. You will repay that loan directly to us, and while your interest rates will be slightly higher than normal, you'll still get a fair rate for the car you need.