A Complete Review of the Nissan Rogue | Merchants Auto
Meet the Nissan Rogue
Should I buy a pre-owned Nissan Rogue? If yes, which model year is right for me? How does the Nissan Rogue rank in terms of safety and performance? If any of these questions have crossed your mind, you've come to the right place. In this Nissan Rogue vehicle guide, we cover everything related to this popular compact SUV, which is touted as Nissan's best-selling model. You'll find a comparison of the 2017-2021 models, an overview of safety and performance features, pricing breakdown, details on how it compares to other mid-sized SUVs, and much, much more.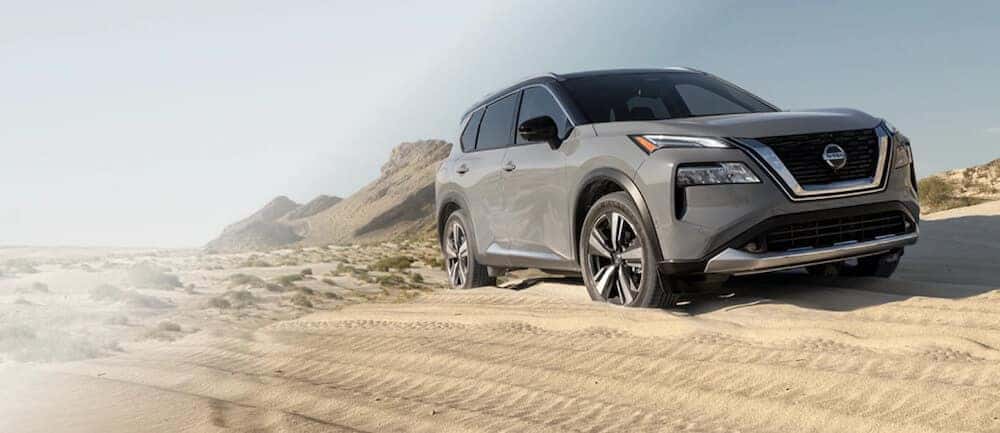 Table of Contents
Nissan Rogue Scorecard
Here is our ranking for the Nissan Rogue. We chose these ratings when compared with other similar vehicles.
Interior – 6/10
Performance – 4/10
Safety – 8/10 (4/5 crash test rating)
Reliability – 8/10
Fuel economy – 6.5/10
Value – 7/10
Overall rating – 6.5/10
The Pros & Cons of a Nissan Rogue
The following information was compiled from our insights and experience, as well as from MotorTrend, Cars.com, and U.S. News & World Report.
Model Year 
Pros
Cons
2021

Practical like a Honda SUV
Large backseat
Good amount of cargo space
Improved interior quality
Good handling
More refined powertrain
Good fuel economy

Loud engine
Good (not great) dynamics
No sliding second row
Average acceleration
Transmission can be loud
Expensive base price for its class

2020

Comfortable cabin
Many standard features
Good amount of cargo space
Good fuel economy
Good safety rating and ride quality

Feeble engine that drones at high speeds
Hands-free technology is sub-par

2019

Large cargo area
Interior
Lots of standard safety technology
Excellent gas mileage

Weak, noisy powertrain
Weak standard audio system
Side crash rating lower than overall safety rating
AC had some temperature regulation issues

2018

Upscale interior
Spacious, versatile cargo area
Advanced safety features
Excellent gas mileage
Optional third row
Hybrid options available
Solid value

One engine option
Noisy powertrain
Many features are SL exclusive

2017

Interior with upscale finishes
Large cargo area
Excellent fuel economy
Easy-to-use technologies

Transmission can be loud
Engine could be more powerful
Many driver assistance features are only featured in the top trim level
Not meant for towing
Nissan Rogue Interior Features
The Nissan Rogue has seating for up to five passengers. The SUV received an interior refresh in 2017 and gained automatic emergency braking, pedestrian detection, and adaptive cruise control, according to U.S. News & World Report. In 2018, Android Auto and Apple CarPlay became standard, and the ProPILOT Assist became available. In 2019, lane departure warning, automatic emergency braking, pedestrian detection, and automatic high beams became standard. There were no major changes to the 2020 models, and in 2021, the Rogue was fully redesigned.
The newer models feature standard infotainment features such as an 8" touch screen, Bluetooth connectivity, and satellite radio. Other available features on the newer models include dual-zone automatic and tri-zone climate control, keyless entry, and a moonroof.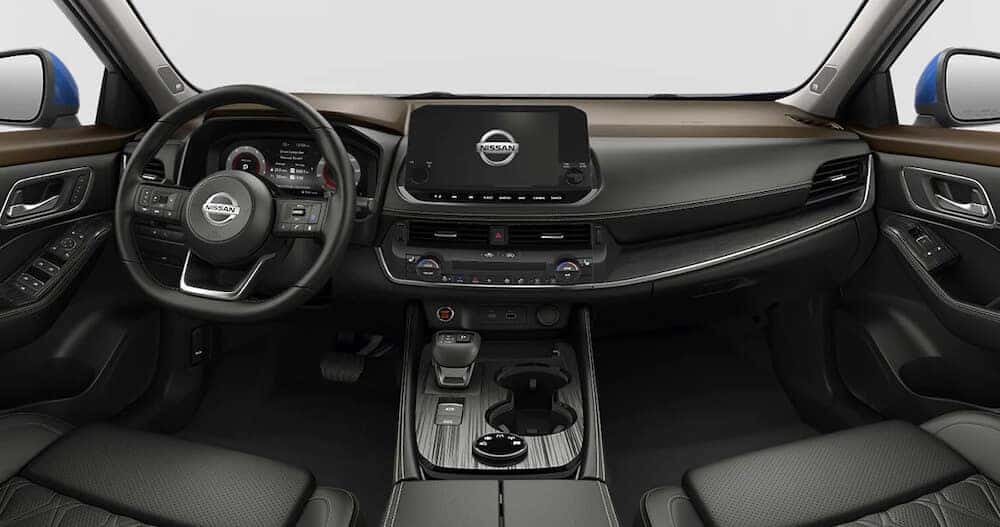 Nissan Rogue Performance Features
The Nissan Rogue offers excellent fuel economy, but many of the model years have a noisy powertrain and transmission and average acceleration. The powertrain is geared for efficiency and delivers a combined mileage in the high 20s. Front wheel drive is standard and AWD is available. The Nissan Rogue also offers good commuter crossover, a fairly smooth ride, and has a good outward vision compared to similar vehicles. It's best for pavement, not off roading.
Nissan Rogue Safety Features
The 2021, 2020, and 2019 Rogues each earned an overall crash test rating of 4/5 from the National Highway Safety Administration. The Rogue has earned the following marks:
Standard safety features for newer models include:
Forward collision warning
Pedestrian and cycling detection
Lane departure warning
Blind spot monitoring
Rear cross traffic alert
Driver attention monitoring
Rearview camera
Rear parking sensors
Older models of the Rogue may not have some of these standard safety features.
How Does the Nissan Rogue Rank?
Nissan Rogue Model Comparison
Which Nissan Rogue model year is right for you? Here's how they stack up:
2021 Nissan Rogue
The Nissan Rogue was fully redesigned in 2021 with sleek styling, modern technology features, and better performance. Nissan offers eight different trims ranging; the starting MSRP ranges from $26,050 to $37,230:
S FWD
SV FWD
SL FWD
Platinum FWD
S Intelligence AWD
SV Intelligence AWD
SL Intelligence AWD
Platinum Intelligence AWD
2020 Nissan Rogue
This year's model starts at $26,640. There are three trim options to choose from: S, SV, and SL. As outlined from Car and Driver, the 2020 SV comes standard with heated front seats, a power driver's seat, dual-size climate control, a motion-activated liftgate, and rear automated emergency braking. The 2020 trim remains largely unchanged from the previous model years, though the Rogue Hybrid is dropped for the 2020 year. Kelley Blue Book gives the 2020 Rogue a 4.2 consumer rating (out of 5).
2019 Nissan Rogue
The 2019 Altima has become a favorite for commuters and small families. The SI model comes loaded with extra luxuries. Forward-collision warning, automated emergency braking, automatic high beams, land-departure warning, and lane-keeping assist became standard for the Rogue in the 2019 models. Rear door alert was also added. Trims include the S, SV, SV hybrid, SL, and S hybrid. Several safety features also became standard in 2019.
2018 Nissan Rogue
ProPILOT Assist became standard in 2018, in addition to Android Auto and Apple CarPlay capabilities. Another change in this model year is the loss of the third row of seating. The 2018 model comes in three trim levels: S, SV, and SL. This model year features a large cargo area and many advanced safety features, in addition to good gas mileage (25-26 miles per gallon in the city and 32-33 miles per gallon on the highway).
2017 Nissan Rogue
The 2017 Nissan Rogue, which had a style refresh, features a classy interior but falls in the middle of the pack against other compact SUVs due to a loud transmission and a lackluster engine. It does provide excellent fuel economy and ranks well in terms of safety and overall comfort with an option for third row seating in some trims. The 2017 Rogue's average performance features, however, keep it from topping the list of best compact SUVs.
Is the Nissan Rogue a Good Car?
The Nissan Rogue is a great car for commuters with excellent fuel economy and a smooth ride. This popular, reliable SUV also features a large cargo space and can last 200,000 miles or more with proper maintenance.
Should I Buy a Nissan Rogue?
Yes, you should buy a Nissan Rogue if you're looking for a commuter or small family car. The Rogue offers low maintenance costs, good fuel economy, reliability, and is one of the best-selling SUVs in the U.S.
How Much Does a Nissan Rogue Cost?
It depends on a variety of factors, including the year, mileage, and overall condition of the vehicle. A new Nissan Rogue starts around $26,000, but pre-owned models are available for thousands of dollars less than the base price. The exact price will depend on the model year and mileage.
Nissan Rogue Insurance
Insurance for any type of vehicle will vary. Here are some factors that will affect the price of your Nissan Rogue insurance:
Driver's age, gender, and marital status
Car make, model, and year
Where the vehicle is regularly parked
Annual mileage
Driving record
State requirements
Credit history
Vehicle's safety features
Type of insurance coverage
Deductible amount
Discounts
Since the rates will vary, it's hard to provide an exact number, but here are some general estimates to give you a good idea of the range:
BankRate lists USAA, Geico, State Farm, Erie, and Amica as the most affordable car insurance for a Nissan Rogue.
There are a variety of popular auto discounts that may provide additional savings. These include the following:
Accident-free
Safe driver
Low mileage
New car
Defensive driving
Military
Multi-vehicle
Multi-policy
Vehicle safety features
Anti-theft features
Good student
Teacher
First responder
Pay policy in full
Paperless billing
Alumni associations
Professional memberships/organizations
If you're looking for more information, SmartFinancial offers a complete breakdown of Nissan Rogue insurance by model year and age group.
Nissan Rogue vs. the Competition
When it comes to compact SUVs, the 2021 Nissan Rogue falls in the middle of the pack, landing at the #6 spot (out of 15) on U.S. News World Report's list of Best Compact SUVs for 2021. Topping the list is the 2022 Hyundai Tucson (#1), the 2021 Honda CR-V (#2), and the 2021 Mazda CX-5 (also #2).
The 2021 Rogue boasts more front headroom and legroom than the 2021 Toyota RAV-4 and 2021 Honda CR-V. There are also some features in the 2021 Rogue that are not available or standard in the RAV-4 and CR-V, such as a fully digital dashboard, USB-C connectors, and blind spot intervention. See the complete breakdown here.
MotorTrend praises the Rogue's 2021 redesign and says the matchup versus the Toyota Rav4 is a close one — but gives the edge to Nissan as "the better all-around performer," and that "the tech is better, there are more practical touches inside, and it's at least as well equipped as the Toyota, yet costs less."
Find Your Next Nissan Rogue with Merchants Auto
If you're considering a pre-owned Nissan Rogue (or any type of SUV), we can help! Merchants Auto is the largest pre-owned dealership in New Hampshire and the largest family-run pre-owned car dealership in New England.
The inventory on our 26-acre lot is always changing. We have hundreds of vehicles to choose from with more than 30 different makes — including hatchbacks, sedans, SUVs, pickups, sports cars, fuel-efficient models, compact cars, and work vans.
We strive to save our customers time and money, and our ultimate goal is to provide an enjoyable and hassle-free car buying experience.
Ready to get started? View our Used Nissan Rogue inventory now!