A Complete Review of the Jeep Cherokee
Discover everything you need to know about the 2017–2021 models
If you're in the market for an SUV, you've probably come across the popular Jeep Cherokee. The Jeep brand has a loyal following and is well known for vehicles that provide excellent off-roading and towing capabilities. The Cherokee is a small crossover SUV that's slightly larger than the Jeep Compass but smaller than the Grand Cherokee, which is considered a midsize SUV. Whether you're knee-deep in research or just curious about the pros and cons of a Jeep Cherokee, read on to discover everything you need to know about this SUV.
Table of Contents
Jeep Cherokee Scorecard
Here is our ranking for the Jeep Cherokee. We chose these ratings when compared with other similar vehicles.
Interior – 7/10
Performance – 7/10
Safety – 9/10
Reliability – 8/10
Fuel economy – 7/10
Value – 8/10
Overall rating – 8/10
The Pros & Cons of a Jeep Cherokee
The following information was compiled from our insights and experience, as well as from Car and Driver, MotorTrend, Cars.com, Edmunds, Kelley Blue Book, and U.S. News & World Report.
Model Year
Pros
Cons
2021

Good selection of engines
Excellent off-road and towing capabilities
Standard safety features
Comfortable seating
User-friendly touchscreen on many models

Poor fuel economy
Limited cargo space
Sluggish acceleration

2020

Good off-roading capabilities
Above-average ride and handling
User-friendly touchscreen on many models
V6 and turbo-4 engine options

Poor fuel economy
Limited cargo space
Sluggish acceleration
Average reliability

2019

Roomy cabin
Excellent off-roading capabilities
User-friendly technology

Limited cargo space
Low safety scores
Poor fuel economy

2018

Good off-road capabilities
Roomy cabin
User-friendly features

Sub-par predicted reliability rating
Average fuel economy
Small cargo space
No Apple CarPlay or Android Auto integration
Brake pedal feel
Blurry backup camera image

2017

Roomy seating
Easy-to-use touchscreen
Excellent off-roading capabilities
Good towing
Comfortable ride

Limited cargo space
Sub-par fuel economy
Below-average acceleration
Jeep Cherokee Interior Features
The Jeep Cherokee has seating for up to five passengers. Our inventory of Jeep Cherokee models has a variety of interior features, including:
Apple CarPlay
Keyless entry
Memory seats
Remote start
Android Auto capabilities
Backup camera
Bluetooth connectivity
Hands-free liftgate
Navigation system
Power seats
Satellite radio ready
Sunroof/moonroof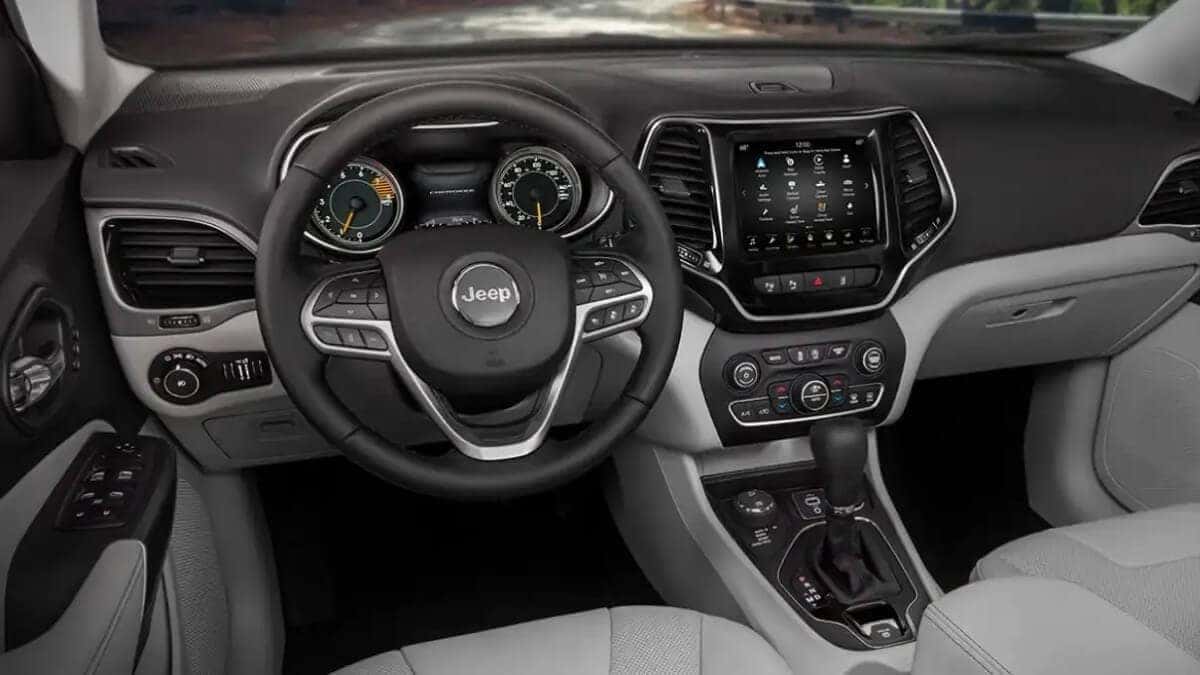 Some of the newer models feature a heated steering wheel, heated and ventilated front seats, and dual-zone automatic temperature control with cloth or leather trim. The exact interior features of your Jeep Cherokee will depend on the model year and trim level. But if you're looking for something in particular, we can help!
Jeep Cherokee Performance Features
One of the consistent cons about the Jeep Cherokee is the below-average fuel economy; the 2021 model sees an estimated 24 miles per gallon (mpg) combined.
According to U.S. News & World Report, the 2021 Jeep Cherokee has "excellent off-road capabilities while also providing a comfortable ride on the road." This can be different depending on what trim level you purchase. But reviews are mixed on the engine options, and the transmission has been called "sluggish."
Jeep Cherokee Safety Features
According to J.D. Power, The 2021 Jeep Cherokee was redesigned with significantly enhanced safety features. Standard features now include blind-spot warning, rear cross-traffic warning, full-speed forward collision warning, automatic emergency braking, lane departure warning, lane-keeping assistance, and rain-sensing windshield wipers.
U.S. News & World report has provided the following safety ratings:
The National Highway Traffic Safety Administration gives many of the Jeep Cherokee models a 4/5 overall rating. (You can see the complete ratings for every make and model here.) Also, the Insurance Institute for Highway Safety (IIHS) awarded the 2019 Jeep Cherokee a Top Safety Pick.
Here is a list of safety features you may find in a Jeep Cherokee. Some come standard, depending on the model year and trim:
Driver and passenger airbags
Child safety locks
Blind spot monitoring and rear cross path detection
Full-speed forward collision warning with active braking
LaneSense® lane departure warning with lane keep assist
Electronic stability controls
Reinforced with a high-strength steel frame to maximize crash protection
ParkSense® rear park assist with stop
ParkView® rear backup camera
Parallel and perpendicular park assist with full stop
Adaptative cruise control
Automatic headlamps
Rain-sensing windshield wipers
How Does the Jeep Cherokee Rank?
Here is how the Jeep Cherokee stacks up against other SUVs:
2021 Jeep Cherokee
By U.S. News & World Report:
2020 Jeep Cherokee
By U.S. News & World Report:
2019 Jeep Cherokee
By U.S. News & World Report:
2018 Jeep Cherokee
By U.S. News & World Report:
2017 Jeep Cherokee
By U.S. News & World Report: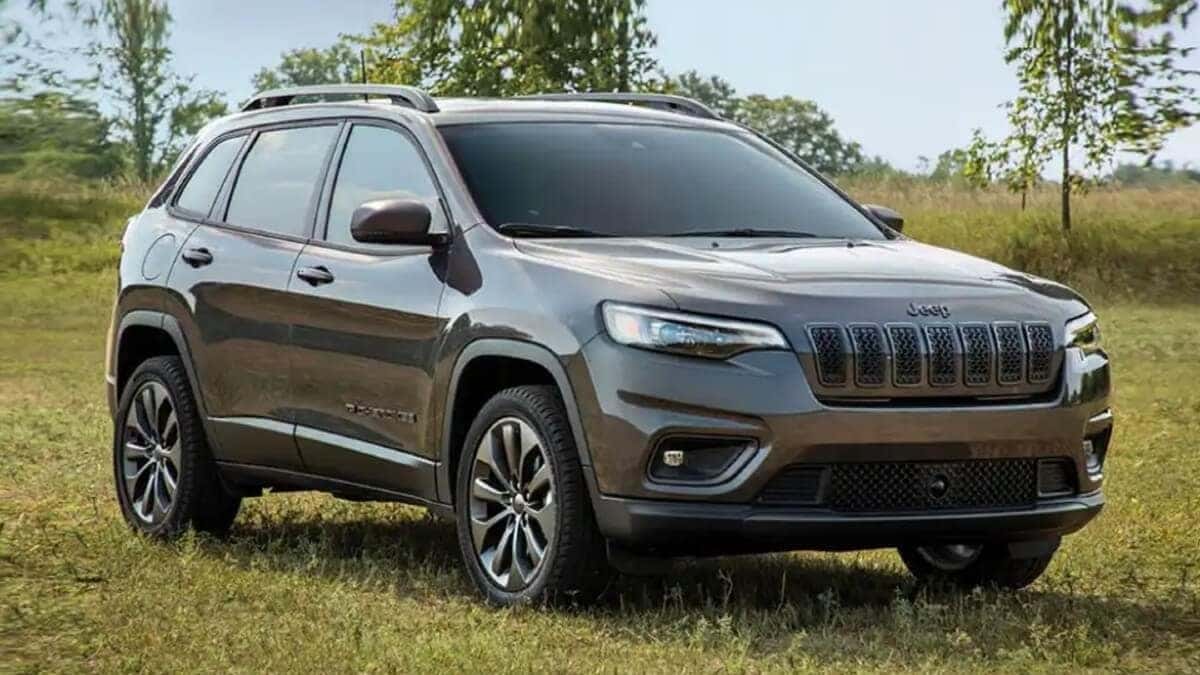 Jeep Cherokee Model Comparison
Which Jeep Cherokee model year is right for you? Let's take a look at each one:
2021 Jeep Cherokee
Certain safety features became standard in 2021, including automated emergency braking, blind-spot monitoring, and lane-keeping assist, according to Car and Driver. Jeep offers nine different trims of the 2021 Cherokee ranging from an MSRP of $28,135 to $38,210 (including the debut of two new models — the 80th anniversary edition and the Latitude Lux — and the removal of the Overland trim):
Latitude
Freedom
Latitude Plus
Altitude
Latitude Lux
80th Anniversary Edition
Limited
Trailhawk
High Altitude
The purchase of any new 2021 Jeep Cherokee comes with automatic enrollment into the Jeep Wave® loyalty program.
2020 Jeep Cherokee
There were no major changes to the 2020 models. Expect above-average off-roading and towing capabilities, a roomy cabin, and easy-to-use technology features. The cargo space continues to be limited with sub-par fuel economy.
2019 Jeep Cherokee
The 2019 Jeep Cherokee has excellent off-roading capabilities but falls short when compared with other SUVs in its class, according to U.S. News & World Report. It has roomy seating and user-friendly technology, but a small cargo hold, lackluster fuel economy, and sub-par safety ratings. The 2019 model features an enhanced exterior design and several infotainment features — a 7" touchscreen and Android Auto and Apple CarPlay capabilities.
2018 Jeep Cherokee
This year, the rearview camera became standard, and some of the Cherokee's trim levels were modified. According to U.S. News & World Report, some of the highlights of the 2018 models include: a spacious cabin, user-friendly infotainment system, smooth ride, and a V6 engine with hefty towing capabilities. Negatives include poor fuel economy, low reliability ratings and safety marks, and less cargo space than similar SUVs in its class.
2017 Jeep Cherokee
The 2017 Jeep Cherokee offers user-friendly tech features and excellent off-road capabilities with the Trailhawk trim, according to U.S. News & World Report. But again, the Jeep Cherokee doesn't score high marks in terms of reliability and fuel economy.
Is the Jeep Cherokee a Good Car?
The Jeep Cherokee has proven itself to be a quality vehicle in many categories. Looking at the reviews, it has its pros and cons, but with the Jeep name and a quality 4WD system, the Cherokee is a great vehicle for anything from snow-covered roads to summer road trips. The Jeep Cherokee has a roomy cabin, comfy seats, and an intuitive infotainment system. Though it has slightly less cargo space than similar vehicles, it's a great off-roading choice.
Should I Buy a Jeep Cherokee?
If you are looking for a vehicle with a strong 4WD system that feels planted to the road no matter the conditions, the Jeep Cherokee is a great buy. It is cost effective and provides a plethora of features to keep the driver and passengers comfortable.
How Much Does a Jeep Cherokee Cost?
It depends on a variety of factors, including the year, mileage, and overall condition of the vehicle. A new 2021 Jeep Cherokee starts around $28,000, but pre-owned models are available for thousands of dollars less than the base price. The exact price will depend on the model year and mileage.
Jeep Cherokee Insurance
There are many factors that will affect the price of your Jeep Cherokee insurance. It's important to remember that estimates will very, so it's best to research multiple insurance companies (or contact an insurance broker) to find the best price. Here is a list of the most common factors that will affect what you pay for insurance:
Driver's age, gender, and marital status
Car make, model, and year
Where the vehicle is regularly parked
Annual mileage
Driving record
State requirements
Credit history
Vehicle's safety features
Type of insurance coverage
Deductible amount
Discounts
Since rates will vary, it's hard to pinpoint an exact number, but here are some estimates that will give you a good idea of what to expect with Jeep Cherokee insurance:
SmartFinancial also lists a complete breakdown of insurance estimates by model year and age group. For example, a 20–29-year-old will pay about $151/month to insure a 2021 Jeep Cherokee, whereas someone who is 60+ will pay about $124/month to insure the same vehicle.
Also, don't forget — popular auto discounts may provide additional savings. These include:
Accident-free
Safe driver
Low mileage
New car
Defensive driving
Military
Multi-vehicle
Multi-policy
Vehicle safety features
Anti-theft features
Good student
Teacher
First responder
Pay policy in full
Paperless billing
Alumni associations
Professional memberships/organizations
Jeep Cherokee vs. the Competition
The Jeep Cherokee falls in the middle to low end of the pack when it comes to small crossover SUVs. The Hyundai Tucson, Honda CR-V, Mazda CX-5, Kia Sportage, Ford Bronco Sport, and Toyota RAV4 typically rank ahead of the Jeep Cherokee due to better fuel economy, more cargo room, and a balanced performance.
Find Your Next Jeep Cherokee with Merchants Auto
If you're considering a pre-owned Jeep Cherokee, or another type of SUV, give us a call! Merchants Auto is the largest pre-owned dealership in New Hampshire and the largest family-run pre-owned car dealership in New England.
The inventory on our 26-acre lot is always changing. We have hundreds of vehicles to choose from with more than 30 different makes — including hatchbacks, sedans, SUVs, pickups, sports cars, fuel-efficient models, compact cars, and work vans.
We strive to save our customers time and money, and our ultimate goal is to provide an enjoyable and hassle-free car buying experience.
Ready to get started? View our Used Jeep Cherokee inventory now!