A Complete Review of the Ford Explorer
Everything you need to know about the 2017-2021 models
If you're looking for a pre-owned SUV, you've likely encountered the Ford Explorer, which is a popular choice for families with seating for up to seven passengers. But is it the right SUV for you? How does it rank in terms of safety and performance, and what are the differences between the recent model years? In this guide, we answer those questions and break down every detail of this well-liked SUV — including rankings, safety and performance features, average cost of a used Explorer, and more.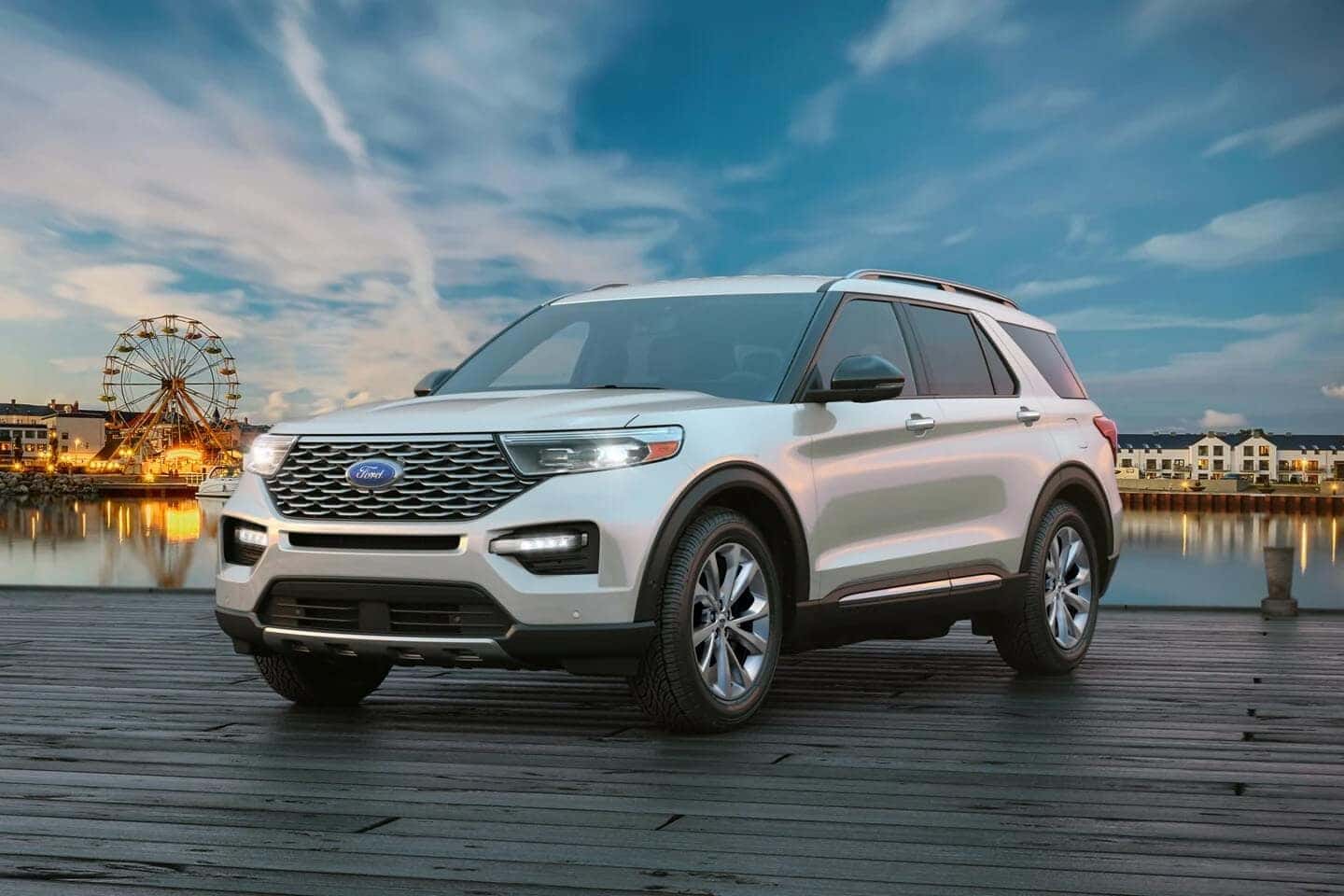 Table of Contents
Ford Explorer Scorecard
Here is our ranking for the Ford Explorer. We chose these ratings when compared with other similar SUVs.
Interior – 6.4/10

Performance – 7/10

Safety – 9.8/10 (5/5 overall crash test rating, including front and side; 4/5 for rollovers)

Reliability – 7/10

Fuel economy – 5/10

Value – 7.4/10

Overall rating – 7.5/10
The Pros & Cons of a Ford Explorer
The following information was compiled from our own industry insights, as well as U.S. News & World Report, Car and Driver, and Cars.com.
Model Year    
 Pros
Cons
2021

Large cargo capacity
Powerful engine options
Smooth ride
Solid braking
Easy-to-use multimedia system
Advanced safety features
High-end seating amenities
Parking assist

Competitors may have more comfortable second- and third-row seating
Many desirable trims are expensive

2020

Fully redesigned
Blind spot warning comes standard
Powerful gas engines
Ample cabin storage space
Advanced driver assistance system
Parking assist
Terrain management system

Many desirable models are expensive
Larger touchscreen does not come standard
Seating could be more comfortable
Small third row

2019

Ample cargo space
Powerful engine options
Comfortable
Quiet ride
Refined steering
Superb handling

Lack of standard features in base trim
Below-average fuel economy
Low safety scores
Sub-par interior
Cramped third row
Less ride comfort on the sport

2018

User-friendly infotainment system
Ample cargo space
Spacious interior
Excellent performance, utility, and towing capability

Below-average predicted reliability rating
Low safety score
Small third row seating
Higher MSRP than competitors
Lack of standard features
Below-average fuel economy

2017

Smooth ride
Comfortable
Powerful engine options
Touchscreen is user-friendly
Apple CarPlay and Android Auto available

Can be difficult to maneuver
Limited space in backseat
Ecoboost engine has lower fuel economy
Ford Explorer Interior Features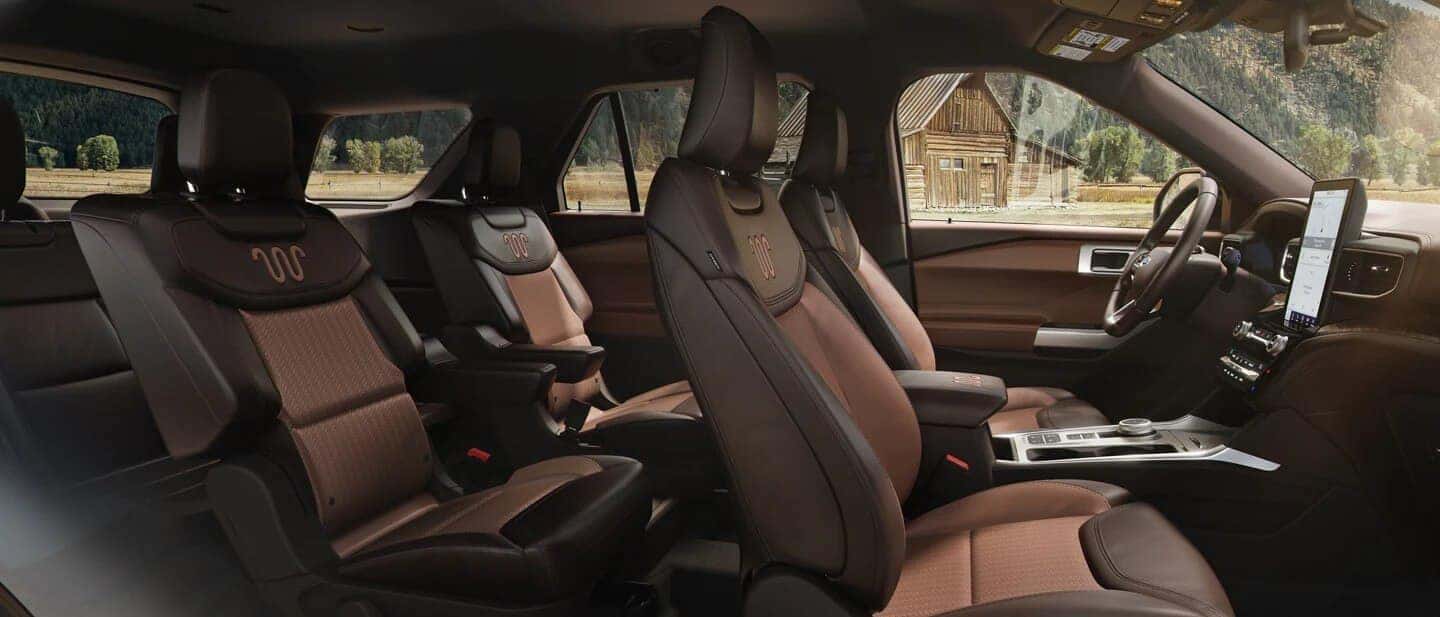 It will depend on the model year and trim level, but Ford Explorer interior features may include:
Third row seating
Android Auto and Apple CarPlay
Bluetooth connectivity
Interior accents
Leather seats
Navigation system
Memory seats
Power seats
Rear A/C
Satellite radio ready
Sunroof/moonroof
Wi-Fi hotspot
Ford Explorer Performance Features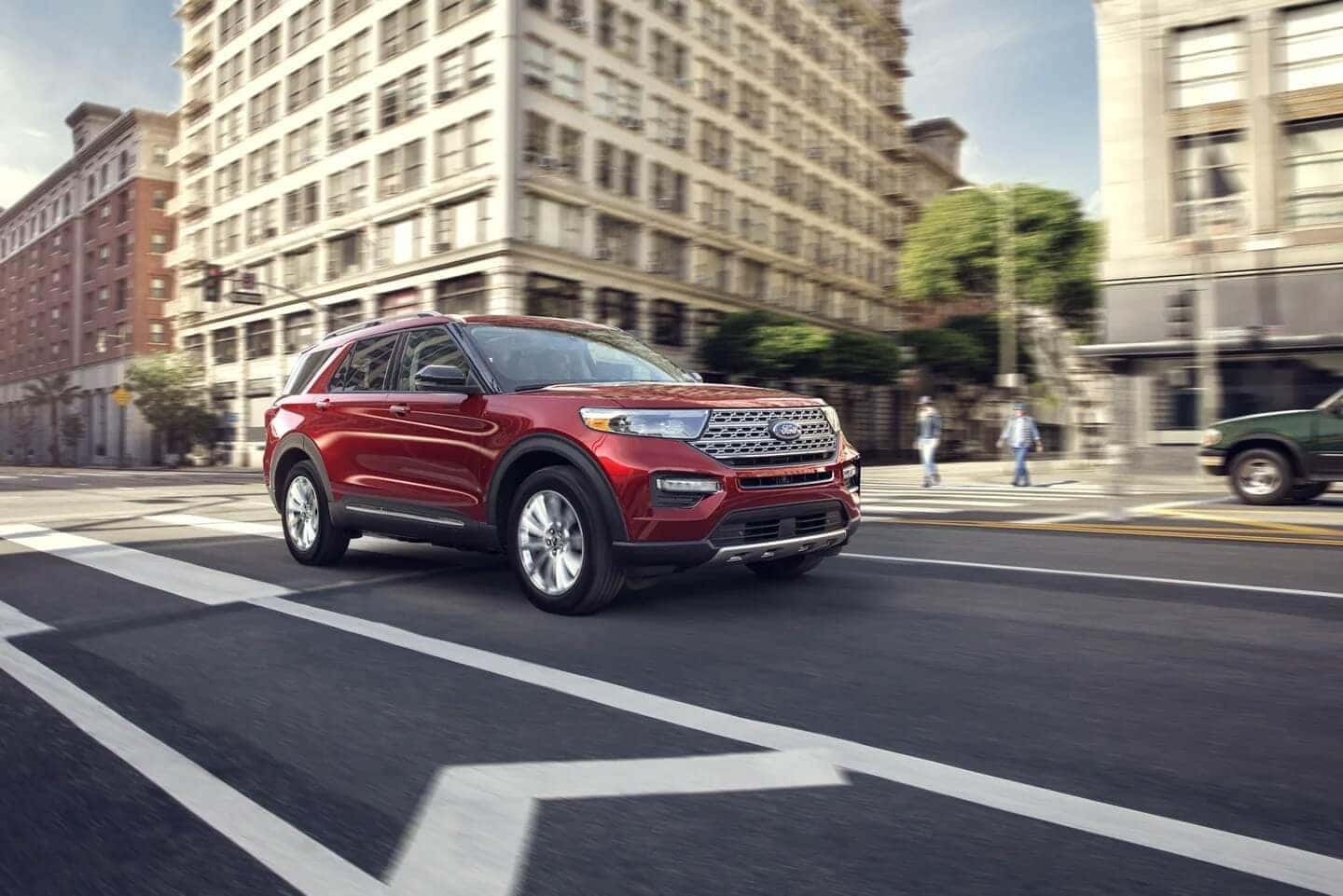 Overall, the Ford Explorer offers robust engine and powertrain options and decent fuel economy — 27 miles per gallon in the city and 29 miles per gallon on the highway. However, the exact numbers will vary depending on the model year and trim level. The Explorer has a towing capacity of 5,000 to 5,600 lbs. 
The vehicle is also equipped with plenty of smart features like driver-assist, blind spot info system, rearview camera, lane-keeping, assist and more. It also has improved on- and off-road capabilities and good cargo capacity. 
Ford Explorer Safety Features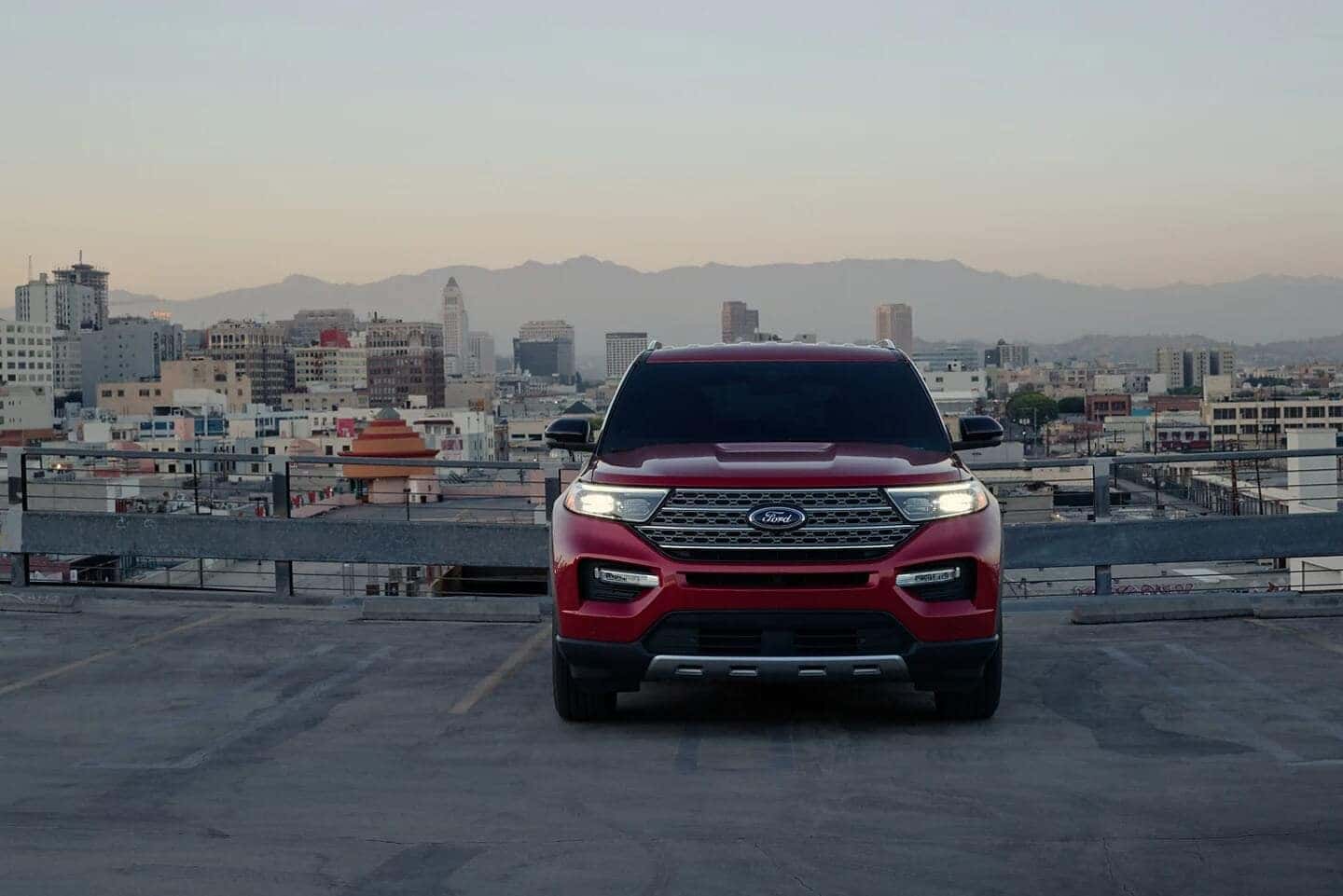 All Ford Explorer models that have been rated by the National Highway Transportation Safety Administration (NHTSA) received ratings of 4/5 or 5/5. The IIHS named the 2022, 2021, and 2020 Ford Explorer a Top Safety Pick+.
The exact safety features of your Ford Explorer will vary depending on the model year and trim level, but many pre-owned models include:
Adaptive cruise control
Backup camera
Blind spot monitoring
Fog lights
Forward collision warning
Lane departure warning
Parking sensors/assist
Rain sensing wipers
Side-impact airbags
How Does the Ford Explorer Rank?
Here's how the Ford Explorer stacks up against similar vehicles: 
2022 Ford Explorer 
2021 Ford Explorer
2020 Ford Explorer
2019 Ford Explorer
2018 Ford Explorer
Ranked #16 in 2018 Affordable Midsize SUVs by

U.S. News & World Report

Consumer rating of 79/100 by

J.D. Power

 

Ford is Most Awarded Brand for Initial Quality and Vehicle Appeal in 2018
2017 Ford Explorer
Ford Explorer Model Comparison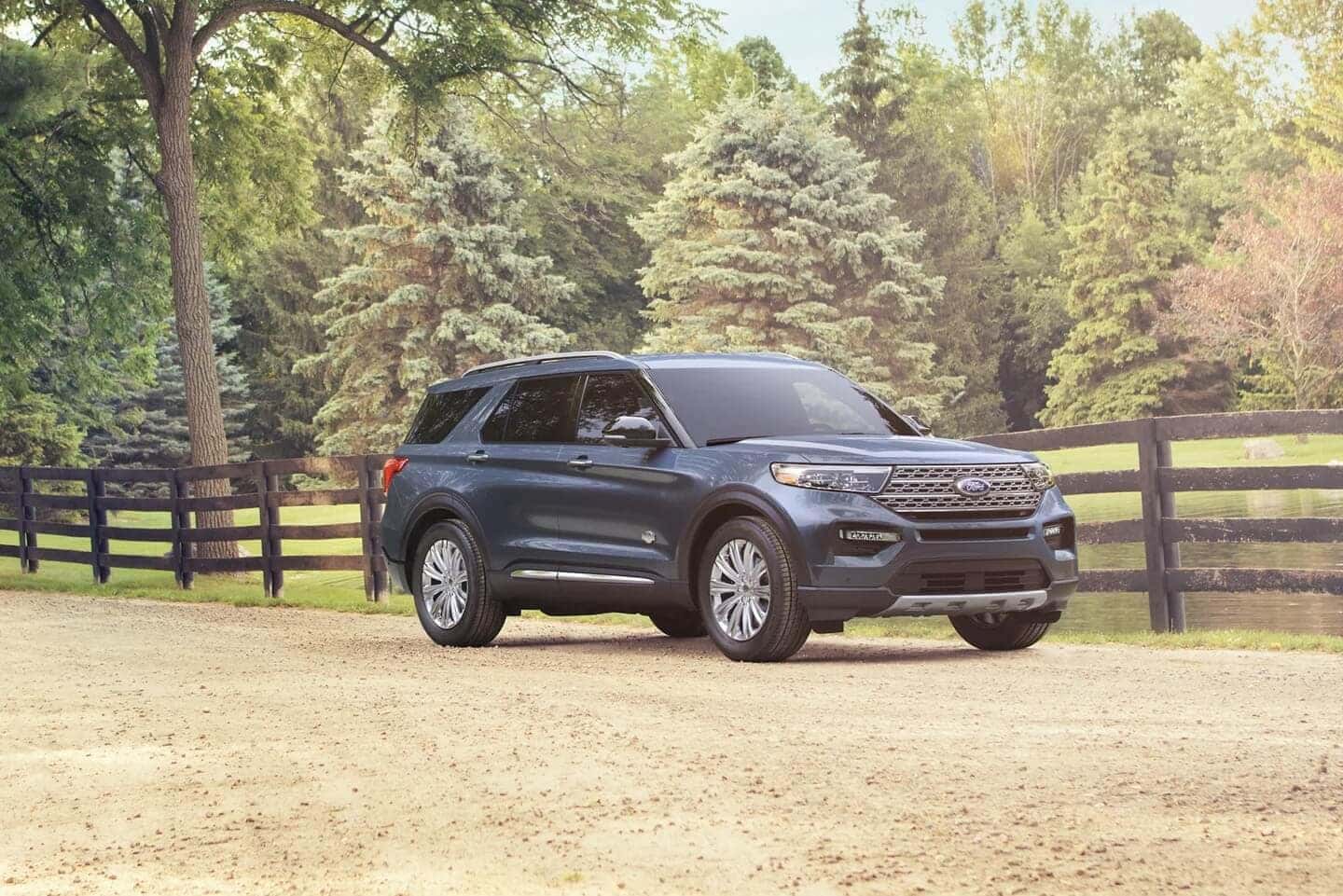 Let's take a closer look at each year of the Ford Explorer from 2017 to 2021. This information was compiled from our own industry insights, as well as with information from Ford, U.S. News & World Report, Cars.com, Kelley Blue Book, J.D. Power, and Car and Driver. 
2021 Ford Explorer 
This model year added two new trims — the Timberline and King Ranch — for a total of seven available options for 2021. A Sports Appearance Package is also a selection for XLT trims. This three-row SUV features rear- or four-wheel drive and your choice of two turbocharged gas engines. Standard features include a power liftgate, tri-zone automatic A/C, a multimedia system, lane keep assist, automatic high beams, and rear parking sensors. 
2020 Ford Explorer
Available in five trims — Base, XLT, Limited, ST, and Platinum — the 2020 Ford Explorer was redesigned for 2020 with a new rear-wheel drive platform. Passenger comfort is still an issue, however; those seats in the third row may find a higher-than-normal floor and a shortage of headspace and legroom. The fuel economy is decent — averaging 16–27 miles per gallon in the city and 23–29 on the highway, with the Explorer offering a smooth ride and a variety of robust engines. 
2019 Ford Explorer
 This model year offers a variety of powerful engine options, ample cargo space, smooth ride and handling, and three rows of seating for up to seven passengers. Five trims are available — Base, XLT, Limited, Sport, and Platinum. There are several changes to the 2019 models, most of which "are limited to changes to standard equipment among the various models and repackaged driver-assistance options," according to Car and Driver. 
2018 Ford Explorer 
The 2018 Explorer is available in the same five trims — Base, XLT, Limited, Sport, and Platinum with the option of choosing from two engines and two drivetrains. The higher-end models come standard with dual-zone automatic climate control, voice-activated navigation, a Wi-Fi hot spot, a power-folding third row, and a hands-free liftgate. Standard advanced safety features include a rearview camera and MyKey driver monitoring system. 
2017 Ford Explorer 
The 2017 Explorer comes standard with a rearview camera, Bluetooth connectivity, cruise control, remote keyless entry, cloth seats, A/C, and an infotainment system. Drivers and passengers will enjoy a smooth, comfortable ride, but may find the SUV hard to maneuver with limited space in the backseat. Apple CarPlay and Android Auto also became available in 2017 models. With a fuel economy averaging 20 combined miles per gallon, the 2017 Explorer is available in the Base, XLT, Limited, Sport, and Platinum trims with the MSRP difference between the Base and Platinum trims around $22,000.
Is the Ford Explorer a Good Vehicle?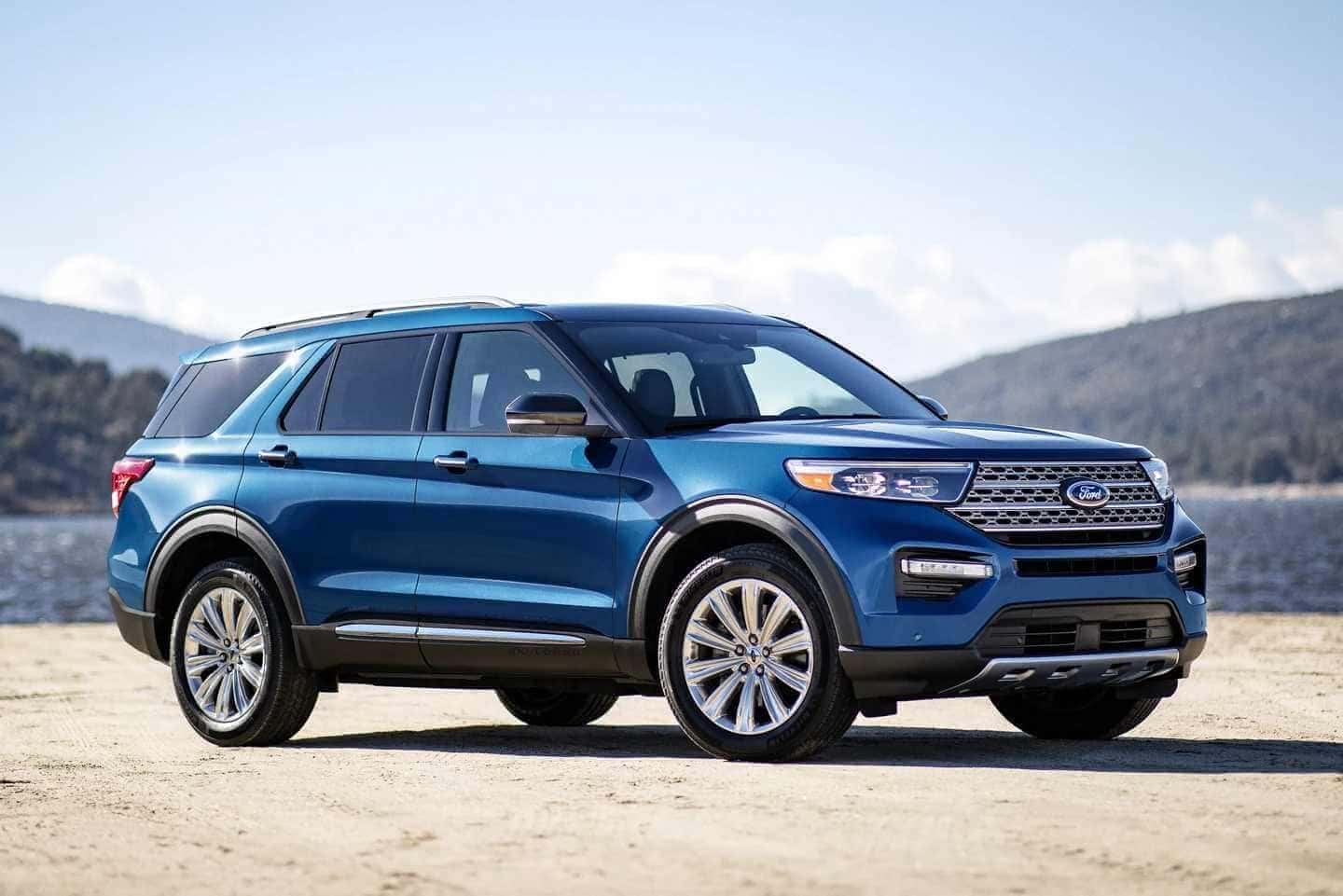 Ford prides itself on being a reliable brand, and the Explorer is no exception. Though it doesn't rank high on the list of best SUVs, the vehicle offers ample cargo space, powerful engine options, and a comfortable ride. If you're looking to regularly transport six or seven adults, however, you may want to consider another SUV as the third row seating in the Explorer has been consistently rated poorly in terms of legroom and headspace. 
Should I Buy a Ford Explorer?
If you're looking for a mid-size family SUV, the Ford Explorer is definitely worth considering. With decent fuel economy and third-row seating more equipped for children than adults, the Explorer is a solid option with large cargo space and advanced technology features. It also ranks extremely well in terms of safety. 
How Much Does a Ford Explorer Cost?
Price will vary, depending on factors such as model year, mileage, trim level, and engine type. But typically a used Ford Explorer will range between $25,000 and $50,000.
Ford Explorer Insurance
Insurance rates vary widely and will depend on a number of factors, including:
Your driving record

Make, model, and year of the vehicle

Driver's age, gender, and marital status

Where the vehicle is regularly parked

Annual mileage

State requirements

Credit history 

Vehicle's safety features

Type of insurance coverage

Deductible 
You may be able to save with popular auto discounts. Many insurance companies offer savings  if you pay your premium in full and have bundled policies, such as homeowners' insurance or multiple vehicles. Others offer discounts for safe driving records, good students, new cars and new customers, automatic payments, and anti-lock brakes and other safety features. Here are some numbers to keep in mind:
The average monthly insurance rate for a Ford Explorer is

$131/month

.

Insurance rates for a Ford Explorer can vary by as much as

$391/year

.

To give you an idea of how much the age of the driver factors into insurance cost, keep this

breakdown

in mind: 

A 16–19 year-old will pay approximately $321/month to insure a 2019 Ford Explorer. A person who is 60+ will pay $135/month to insure the same vehicle.
Ford Explorer vs. the Competition
The Ford Explorer falls in the middle-to-low end of the SUV pack. If you're looking for an SUV with strong off-roading capabilities, we recommend the Jeep Wrangler or Jeep Grand Cherokee. Another option is the Ford Edge, which is similar but slightly smaller (two rows of seating for up to five passengers). The Chevrolet Traverse is typically less expensive than the Explorer and ranks well in terms of cargo space and a roomy interior (it can also hold up to eight passengers, whereas the Explorer holds seven). 
Find Your Next Ford Explorer With Merchants Auto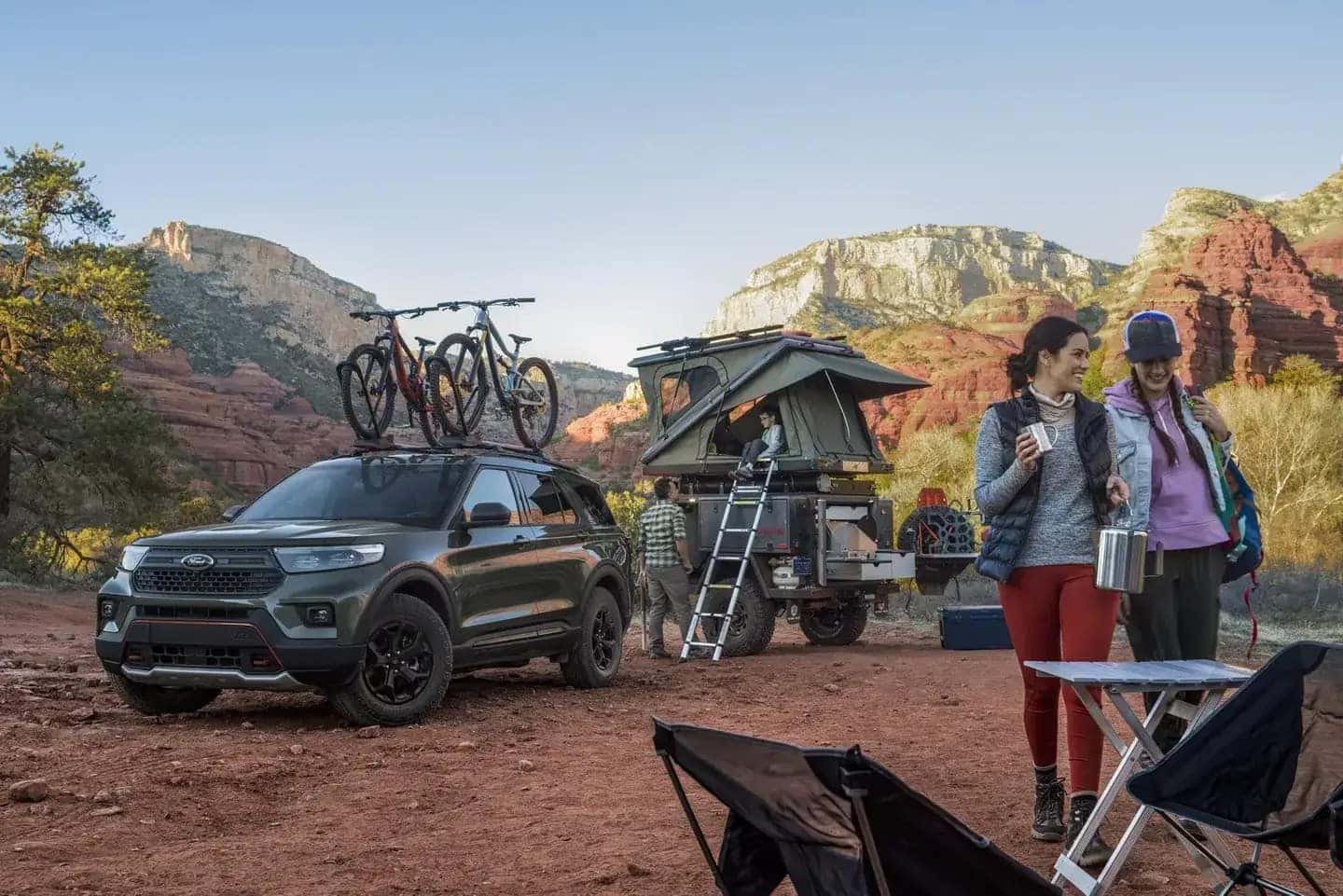 Are you ready to take a Ford Explorer for a test drive? Whether you're looking at this vehicle in particular or another type of SUV, we're here to help! Merchants Auto is the largest pre-owned dealership in New Hampshire and the largest family-run pre-owned car dealership in New England. The inventory on our 26-acre lot is always changing. We have thousands of vehicles to choose from with more than 30 different makes — including hatchbacks, sedans, SUVs, pickups, sports cars, fuel-efficient models, compact cars, and work vans. We strive to save our customers time and money, and our ultimate goal is to provide an enjoyable and hassle-free car buying experience. We want you to be completely satisfied with your purchase, which is why Merchants Auto allows you to return your vehicle for a full refund within 7 days or 500 miles, whichever comes first. Contact us today to see what we have in stock!