Concord, NH Car Dealers

Are you looking around for the best Concord, NH used car dealerships? Look no further — we have a tremendous lineup of used trucks, SUVs, compact cars, sedans, vans, and more. If you're looking for a car capable of hauling children and cargo, we have you covered. Do you need an efficient, gas-friendly model? We have that too. Merchants Auto also features a number of stylish and fun-to-drive models, and if you're simply looking for a powerful and reliable car that can handle the snow, you need to swing by our used car dealers.
We also feature some of the friendliest service you'll find in Concord; our technicians are skilled and knowledgeable, our sales team can educate you on every model on our lot, and our finance professionals will help you get the loan you need on a used car.
We also offer a high-quality service department in Concord, NH — if you need maintenance, engine repair, or collision repair, we can get you back on the road.
If you have any questions about our dealership or the services we offer, please don't hesitate to reach out! We would love to sign you up for a test drive, help you apply for a loan, or schedule vehicle maintenance over the phone or email.
---
Used Cars for Sale in Concord, NH
What kind of vehicle are you looking for? Our selection of used cars in Concord, NH is hard to beat, and we want to work with you to help you find the perfect car for your lifestyle and wallet.
Do you need something suitable for the whole family? We have both older and late-model vans, SUVs, and crossovers on our lots, and while our inventory turns over fairly often, we know you'll find something with room for kids, their friends, and your gear. We also offer a number of family vehicles that will haul trailers and drive in inclement winter weather — get in touch for details.
If you are looking for a hard-working, reliable pickup truck, we can help you there too –whether you want a smaller Frontier or a larger F-150, you never know what exciting truck models we will have available.
We also have cars that are perfect for your daily commute as well; get a fashionable compact car, stylish mid-sized sedan, or a luxurious full-sized sedan. Of course, you are always welcome to take your car on a test drive before committing.
We want you driving home in the perfect car for your needs, so if you see something that might be the right match, call about a test drive as soon as possible!
---
Car Service Center in Concord, NH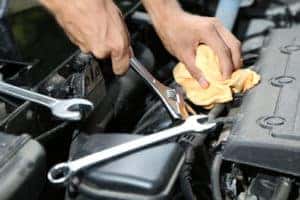 Do you know where to turn if your current vehicle experiences technical difficulties? What if you need a new clutch, have transmission issues, or need new brake pads? We'd be honored if you would make our car service center your go-to destination. Our technicians are talented and reliable, and you can trust them with your car.
We also offer routine maintenance services; whether you need an oil change, tire rotation, battery replacement, or some other kind of tuneup, please get in touch as soon as you need. We'd love to meet you and get your car back on the road.
If you're ready to schedule vehicle maintenance, give us a call or reach out online — it's easier than ever to keep your car in great shape or get back on the road.
---
Get a Used Car Loan in Concord, NH
If you are considering buying a used car from our dealership, the first step is to get pre-approved for financing. You can also apply for financing after you've identified the car that you would like to buy, but it's always best to get started early!
To get started, simply fill out our application. You'll need some financial information, but it's secure and only takes a few minutes. Once you've applied, we'll approve you for a certain amount of credit, and after that, you will know exactly what your car budget is. It's worth noting that stronger credit scores and applications will result in a higher approved loan amount, and you may experience lower interest rates as well.
Not having sterling credit doesn't mean that you shouldn't apply, though — we are happy to work with individuals with all manner of credit scores, and we want to see you behind the wheel of the right car.
Get in touch for more information regarding our used car financing center here in Concord, New Hampshire — we'd love to hear from you.
---
Buy Here Pay Here (BHPH) Car Loans
Have you experienced difficulty when trying to get approved for a loan on a car purchase? You're not alone, and there are options for these situations. If you have a low credit score due to a home foreclosure, missed rent payments, a high credit card balance, unpaid loans, or a bankruptcy declaration, you can still get the financing you need with our buy here pay here used car dealership in Concord, New Hampshire.
Here's how BHPH loans work: we give you a loan directly from our dealership, rather than through a third party. You then agree to regular payments made at our dealership (this can be bi-weekly or even weekly), and you may experience slightly higher than average interest rates. However, we'll still make it fair for you, and you will be able to get the used car you need through a buy here pay here loan.
If you are considering buying a used car, signing up for vehicle maintenance, or applying for a used car loan or buy here pay here loan, we would love to hear from you. Our selection of high quality used cars is hard to beat, and you can get the right vehicle for any number of uses. You can also get an affordable, low-interest loan if you qualify; it has never been easier to buy the car you need, and we'd love to be part of it. Give us a call or send us an email today.