A Complete Review of the Nissan Altima
Meet the Nissan Altima
If you're searching for a mid-sized sedan, you've likely come across the Altima, which Nissan says is the company's "all-time best-selling vehicle in the U.S." This vehicle is unique because it's Nissan's first sedan that offers all-wheel drive, which makes it a good choice for commuters and families in snowy locations.
The Nissan Altima falls in the middle-to-low end of the pack compared with other vehicles in its class, but it's known for its excellent fuel economy and a roomy, comfortable interior. The vehicle, which was fully redesigned in 2019, is available in a variety of trims to fit your needs and budget.
In this comprehensive vehicle guide, we've compiled everything you need to know about the Nissan Altima, including a model comparison, overview of safety and performance features, pricing, how it compares to other mid-size sedans, and much more. Plus, we answer your burning questions: Is the Nissan Altima a good car? And should I buy one?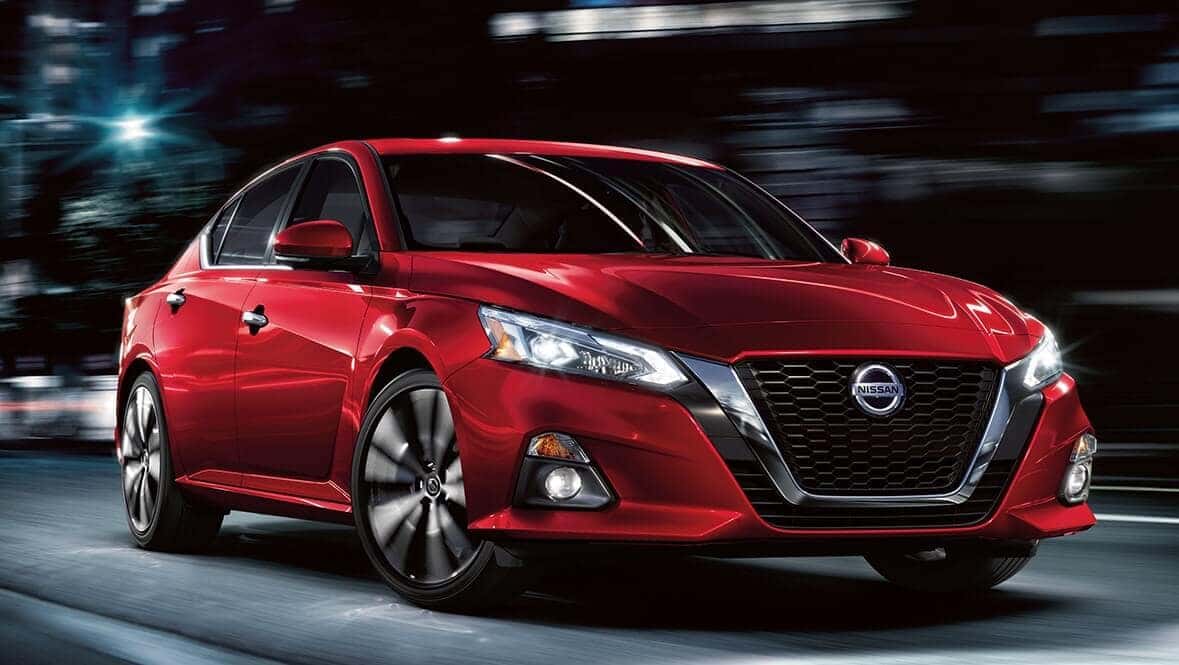 Table of Contents
Nissan Altima Scorecard
Here is our ranking for the Nissan Altima. We chose these ratings when compared with other similar vehicles.
Interior – 7/10
Performance – 7.5/10
Safety – 9.5/10
Reliability – 8/10
Fuel economy – 9/10
Overall rating – 8/10
The Pros & Cons of a Nissan Altima
The following information was compiled from our insights and experience, as well as from Cars.com and U.S. News & World Report.
Model Year 
Pros
Cons
2021

Excellent fuel economy
Bold design
Roomy, comfortable seats

Apple CarPlay and Android Auto are not standard

2020

Good fuel economy
Multimedia/entertainment system
Comfortable seats

Not as sporty or athletic as some other competitive models
Cabin materials could be better

2019

Redesigned for 2019
AWD available
Apple CarPlay and Android Auto are standard
Lane-centering steeling and adaptive cruise control
Excellent fuel economy
Balanced ride
Larger touchscreen
More powerful base engine

Not as sporty or athletic as some other competitive models
Other competitive models have nicer cabin materials

2018

Apple CarPlay and Android Auto are available
Good safety ratings
Smooth ride
Comfortable front seats
Excellent fuel economy
Standard forward collision warning with brake assist

Infotainment system not as up to date
Average interior styling and materials

2017

Comfortable seats
Great fuel economy
High safety marks
Automatic emergency braking available

Latest redesign was in 2013
Limited standard features
Nissan Altima Interior Features
The Nissan Altima has seating for up to five passengers. The car was redesigned in 2019 to include more standard features such as Apple CarPlay and Android Auto connectivity, but it's important to note that those features now don't come standard in the 2021 models.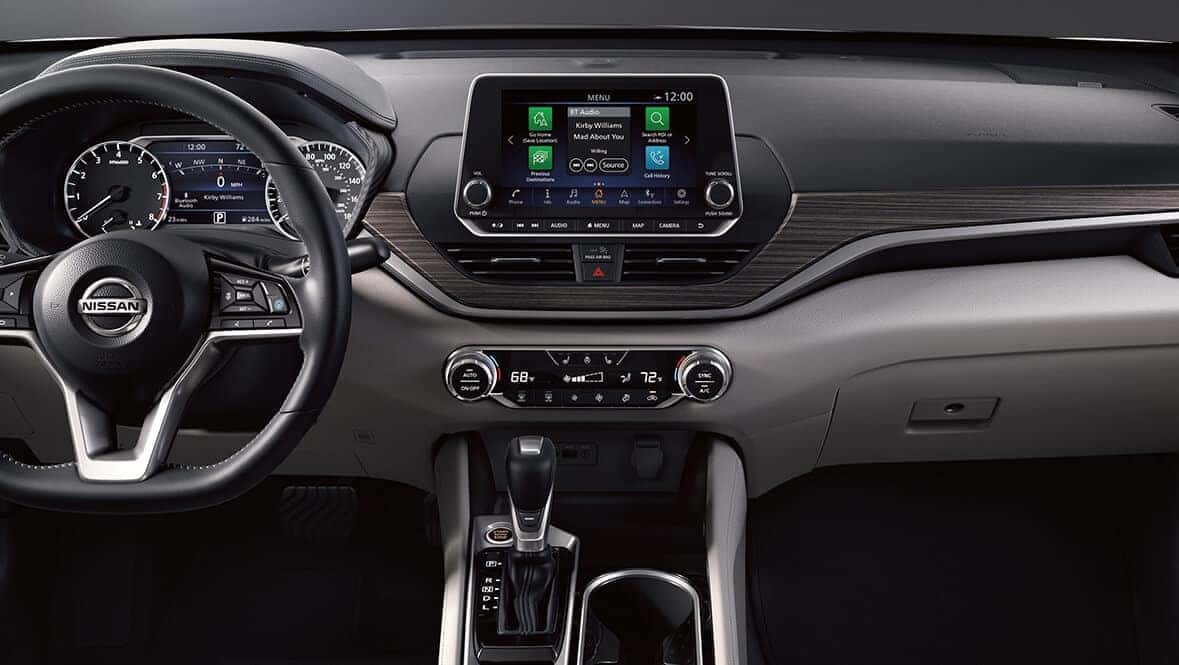 Depending on the year and trim, you can expect to find a variety of standard and available interior features, such as:
NissanConnect infotainment system with touch-screen and navigation
Moonroof
Cloth or leather interior
Folding rear seats
Heated front seats
Heated steering wheel
USB ports
Sound system
Bluetooth connectivity
Satellite radio
Backup cameras
Blind spot monitor
Interior accents
Keyless entry
Power seats
Satellite radio ready
Side-impact air bags
Blind spot warning
Rear child safety locks
Multi-zone AC
Power driver seat
Brake assist

Nissan Altima Performance Features
Overall, the Nissan Altima offers excellent gas milage, a comfortable interior, and smooth ride. The 2021 four-cylinder FWD model gets 28 miles per gallon in the city and 39 mpg on the highway, according to U.S. News & World Report. It features a multi-link independent rear suspension that helps the sedan maintain a smooth ride on bumpy roads. Standard 17" wheels help to keep control of traction and stability.
Nissan Altima Safety Features
The 2021 Altima earned a 5/5 crash-test rating by the National Highway Traffic Safety Administration, with previous model years earning top marks as well. According to Nissan, the Altima has earned the following top safety ratings:
2021 Altima: One of 8 "Best Cars for Teens $30K to $35K" by U.S. News & World Report
2021 and 2020 Altima: IIHS Top Safety Pick
2019 and 2020 Altima: "Superior" rating from the IIHS for front crash prevention systems in midsize sedans
According to U.S. News & World Report, standard safety features for newer models include rearview camera, forward collision warning, pedestrian detection, lane departure warning, driver drowsiness monitoring, automatic high beams, and forward automatic emergency braking. Older models of the Altima may not have some of these standard safety features.
Advanced features are also available, depending on the model and year, including LED headlights, blind spot monitoring, ProPILOT Assist, and rear cross traffic alert.
How Does the Nissan Altima Rank?
Nissan Altima Model Comparison
2021 Nissan Altima
The latest Nissan Altima offers nine different trim options ranging (in starting MSRP) from $24,450 to $34,250:
2021 Altima S FWD
2021 Altima SV SWD
2021 Altima SR FWD
2021 Altima SV Intelligent AWD
2021 Altima SR Intelligent AWD
2021 Altima SL FWD
2021 Altima SR VC-Turbo FWD
2021 Altima SL Intelligent AWD
2021 Altima Platinum Intelligent AWD
Depending on the model and trim level, the 2021 Nissan Altima offers a touchscreen display, automatic emergency braking with pedestrian detection, and the Nissan Safety Shield 360. Nissan also offers the Nissan Mobility Assist Program, which provides a $1,000 reimbursement for the "purchase and installation of qualified adaptive equipment."
2020 Nissan Altima
The MSRP for this model year starts at $24,300, according to Cars.com, and offers a combined 32 miles per gallon. Seven trims are available with your choice of two four-cylinder engines. In these models, Apple CarPlay and Android Auto come standard. Nissan Safety Shield 360 is also available, in addition to front or all-wheel drive is available, lane centering steering, and adaptive cruise control.
2019 Nissan Altima
The Nissan Altima was fully redesigned this year, making Autotrader's list of "12 Best New Cars for 2019." Highlights include a roomy cabin, comfortable seats, and excellent fuel economy. Even though the vehicle was redesigned, U.S. News & World Report notes that the 2019 Altima has "fewer upscale cabin materials than rivals" and is "less athletic than some competitors."
2018 Nissan Altima
The 2018 Altima is an affordable mid-sized car that offers a quiet, smooth ride, and excellent safety scores. This is also the year Apple CarPlay and Android Auto became available. The 2.5 and 3.5 SR trim levels were no longer available in 2018, according to Kelley Blue Book. Automatic Emergency Braking and Intelligent Forward Collision Warning also became standard.
2017 Nissan Altima
Similar to the other model years, the 2017 Nissan Altima offers comfortable seating, fantastic fuel economy, and good safety marks, averaging 22 to 27 miles per gallon in the city and 32 to 39 miles per gallon on the highway. There were no major changes to the 2017 Altima, which features an above-average predicted reliability rating of 3.5 out of 5 from J.D. Power. The price range for a pre-owned 2017 Nissan is around $14K to $22K.
Is the Nissan Altima a Good Car?
The Altima is a good mid-sized car with powerful engines, excellent fuel economy, a relaxed ride, and comfortable seating. It can also handle winter roads and features a 9.6 out of 10 safety rating.
Should I Buy a Nissan Altima?
If you're looking for a reliable mid-sized sedan, consider the Nissan Altima. With seating for five, the Altima is reliable and safe with good fuel economy — all at an affordable price.
How Much Does a Nissan Altima Cost?
It depends on a variety of factors, including the year, mileage, and overall condition of the vehicle, but a pre-owned Nissan Altima will typically range between $12K and $21K. The MSRP for a 2021 Nissan Altima starts at $24,450, with the highest-end model, the Altima Platinum Intelligent AWD, starting at $34,250.
Nissan Altima Insurance
If you've insured any vehicle, you know that the cost will vary. There are many factors to consider, including:
Driver's age, gender, and marital status
Car make, model, and year
Where the vehicle is regularly parked
Annual mileage
Driving record
State requirements
Credit history
Vehicle's safety features
Type of insurance coverage
Deductible amount
Discounts
Since the rates will vary, it's hard to provide an exact number, but here are some general estimates to give you a good idea of the range:
BankRate also lists USAA, Amica, and Erie as the most affordable car insurance companies for a Nissan Altima, though USAA only serves military members.
You may also be able to save on insurance costs with popular auto discounts, such as:
Accident-free
Safe driver
Low mileage
New car
Defensive driving
Military
Multi-vehicle
Multi-policy
Vehicle safety features
Anti-theft features
Good student
Teacher
First responder
Pay policy in full
Paperless billing
Alumni associations
Professional memberships/organizations
Looking for even more information? SmartFinancial offers a complete breakdown of Nissan Altima insurance by model year and age group.
The bottom line? It's worth doing your homework for the best insurance rate.
Nissan Altima vs. the Competition
The Nissan Altima typically falls in the middle to low end of the midsize sedan rankings. Popular vehicles like the Toyota Camry, Honda Accord, Mazda Mazda6, Hyundai Sonata, and the Subaru Legacy are often ranked ahead of the Altima.
In a comparison with the Toyota Camry, the Altima comes standard with forward collision warning and easy fill tire alert. A turbo engine is also available. The Altima has slightly more front row legroom and head room.
Find Your Next Nissan Altima with Merchants Auto
If you're considering a pre-owned Nissan Altima (or any type of sedan), we can help! Merchants Auto is the largest pre-owned dealership in New Hampshire and the largest family-run pre-owned car dealership in New England.
The inventory on our 26-acre lot is always changing. We have hundreds of vehicles to choose from with more than 30 different makes — including hatchbacks, sedans, SUVs, pickups, sports cars, fuel-efficient models, compact cars, and work vans.
We strive to save our customers time and money, and our ultimate goal is to provide an enjoyable and hassle-free car buying experience.
Ready to get started? View our Used Nissan Altima inventory now!